Some snacks like candies and chips have earned a bad reputation for snacking. But when your stomach growls before next meal, eating healthy snacks is actually a great idea. A lot of them can be easily made at home. These snacks provide nutrition your body needs and keep your energy levels up when you feel hungry before the next meal. All you need to know is how to make these healthy and tasty snacks.
1. Spiced Apple Crisps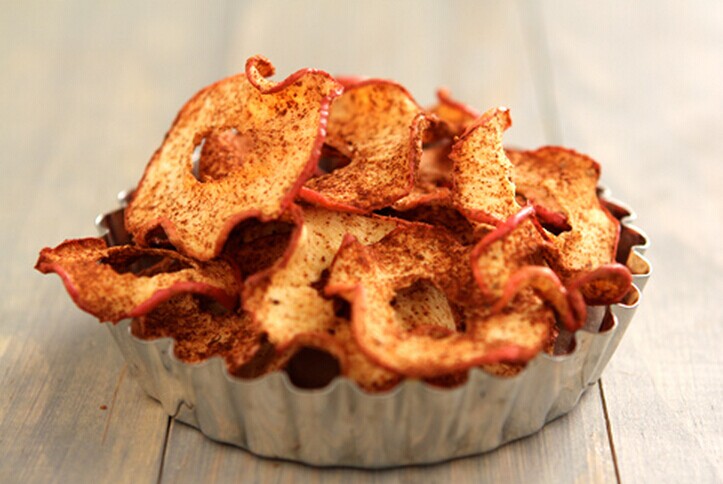 Ingredients: 2 Granny Smith apples; cinnamon
Instructions:
1. Slice the Granny Smith apples into very thin slices not more than 1-2mm thick and then sprinkle some cinnamon on the slices.
2. Preheat the oven to 140°C/160°C and place the slices in the oven over a parchment paper, lining the baking sheet.
3. Cook the apples in the oven for about an hour. Turn the slices halfway through before removing the brown crisps.
4. Remove the slices when they have turned light golden and dried.
Keep the slices in a container which is airtight and enjoy this wonderful snack!
2. Sweet & Spicy Popcorn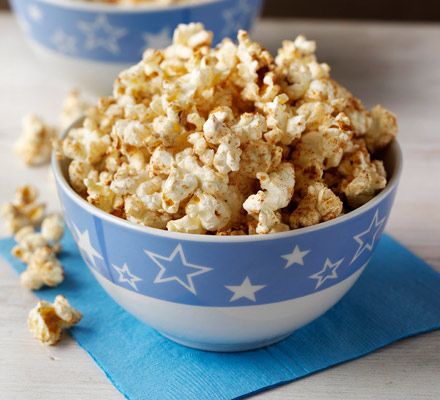 Ingredients: 1 bag salted microwave popcorn; 1 tsp agave syrup; 1/2 tsp cinnamon; 1/4 tsp chilli powder
Instructions:
1. Follow the packet instructions to cook the popcorn in the microwave oven.
2. Sprinkle the chili powder and cinnamon on the popcorn before pouring agave syrup on it.
3. Shake the bag to mix the syrup and spices completely with the popcorn.
Keep these healthy snacks in the bag and enjoy whenever looking for something to fill you up!
3. Banana Oatmeal Walnut Cookies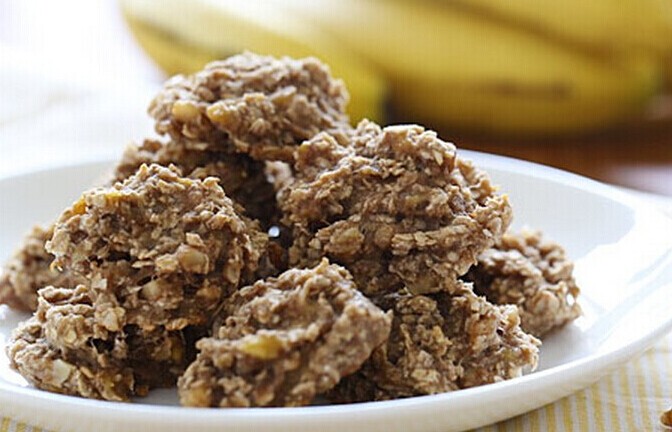 Ingredients: 2 bananas; 1/4 cup crushed walnuts; 1 cup of uncooked quick oats
Instructions:
1. Mix 2 mashed bananas, crushed walnuts and quick oats together.
2. Once the mixture is complete, take scoops of the mixture using a tablespoon.
3. Bake the mixture in an oven at 350 degrees for about 15 minutes on a baking sheet.
This tasty snack contains good fats, potassium and whole grains which make it a heart healthy snack.
4. Yogurt-Dunked Blueberries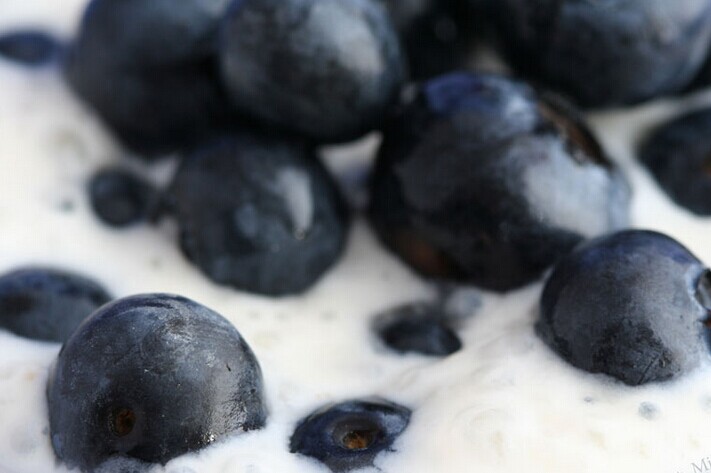 Ingredients: Blueberries; Greek yogurt
Instructions:
All you have to do is to dip blueberries into a bowl containing Greek yogurt using a toothpick. Another toothpick can be used to nudge berries out of the yogurt and onto a baking sheet. In order to complete the snack, freeze the dish for about an hour.
Once ready, you can enjoy this mouthwatering treat. Anything left over after you have enjoyed the snack can be put back again in the freezer, so you can enjoy the dish later.
5. Watermelon & Pistachios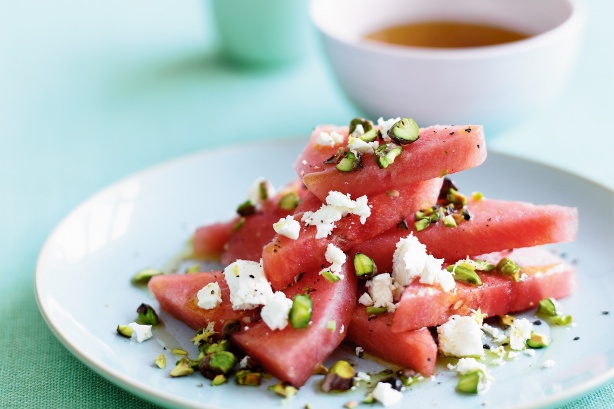 Ingredients: 1/2 tsp grated lime zest; 1 tsp fresh lime juice; 2 cups of watermelon cubes; 2 tsp roasted pistachios; cayenne pepper
Instructions:
1. Simply pour the grated lime zest and fresh lime juice on 2 full cups of watermelon cubes.
2. Add 2 teaspoons of roasted pistachios chopped and unsalted in addition to some cayenne pepper.
Your salad is all ready to be consumed. This tasty salad snack can refresh you in minutes and is among the best healthy snacks.
6. Baking Nuts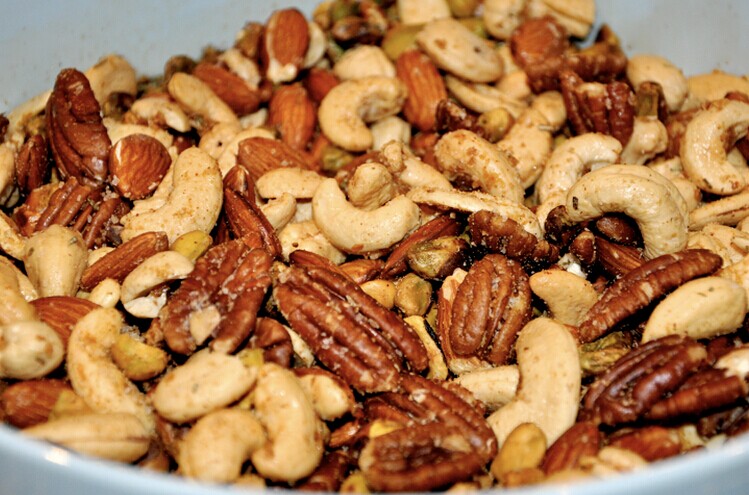 Ingredients: 1/2 tsp vanilla extract; 1/2 tsp extra virgin olive oil; 1/2 tsp crushed cinnamon; 1 tsp crushed ginger; 4 ounces of raw cashews, raw walnuts, shelled raw pecan halves
Instructions:
1. In order to make this healthier snacking recipe, heat your oven to 325oF.
2. In a large bowl, mix vanilla extract, extra virgin olive oil and crushed cinnamon along with crushed ginger.
3. Once the mixing is done, add raw cashews, raw pecan halves shelled and raw walnut halves shelled. Completely rub down the mixture before placing it on a baking sheet.
4. Now bake the mixture for about 12 minutes.
5. Once the snack is done, cool it down and then keep it in a closed container.
7. Strawberry & Cream Cheese Sandwich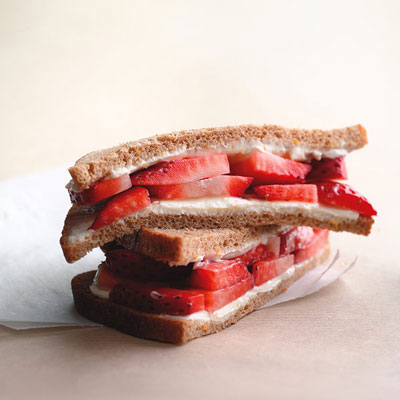 Ingredients: 1 tsp reduced-fat cream cheese; 1/4 tsp honey; 1/8 tsp freshly grated orange zest; 2 slices whole-wheat sandwich bread; 2 medium sliced strawberries
Instructions:
1. In a dish, add honey, orange zest and cream cheese.
2. Spread this mixture on a slice of whole wheat bread and place strawberries on top of it.
3. Place another slice of whole wheat bread on top of the first slice to complete the sandwich. This delicious snack is rich in a number of nutrients including fats, protein, sodium, potassium, fiber, sugars and carbohydrates. The snack also contains "good" cholesterol and only contains 128 calories. And it also contains vitamin C.
8. Bagel with Ricotta, Strawberries & Lavender Honey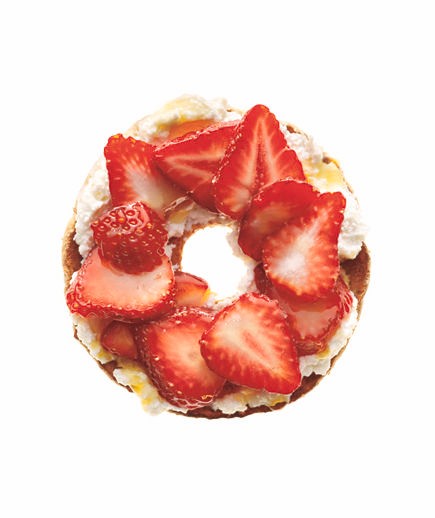 Ingredients: 4 to 5 medium strawberries; a good quality bagel; fresh ricotta cheese; lavender infused honey
Instructions:
1. Toast the bagel after slicing it. On each slice spread ricotta cheese as much as you can.
2. Slice each strawberry into 4 pieces after removing the stems.
3. Set the strawberry slices on the bagel and pour honey over it.
Your mouth watering snack is ready! You can enjoy this snack whenever your tummy growls in between meals without any worries about your fitness.
9. Cottage Cheese & Apples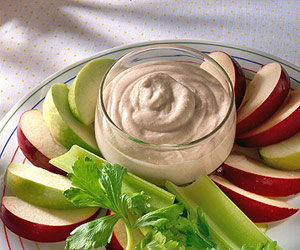 Ingredients: Cottage cheese; an apple
Instructions:
Slice the apple and pour half cup of low fat cottage cheese on top of the apple slices. The snack is also very delightful if two cinnamon-spiced drained apple rings are used in place of the fresh apple slices. This easy and quick snack is one of the very heart healthy snacks and provides you with lots of required nutrition.
10. Edamame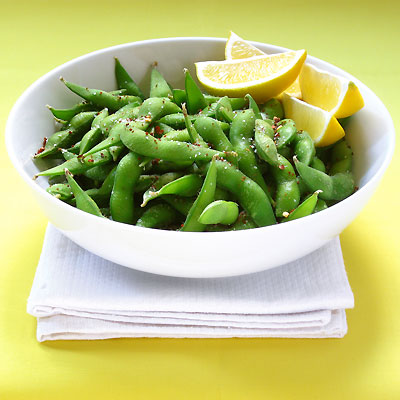 Ingredients: Frozen shelled soybeans; lemon
Instructions:
1. Thaw a handful of frozen soybeans by placing them under steaming-hot water until they are ready to eat.
2. Squeeze lemon juice on top of the soybeans to enhance the taste of this nourishing snack.
This easy to make snack can be prepared quickly whenever you are looking for quick relief from hunger. The main nutrient contained in this snack is soy protein which reduces cholesterol and fiber.