Preparing ribs can seem daunting and time consuming, but baking ribs in oven and then grilling them make it relatively quick and easy. Experiment with following recipes, and you'll soon find your favorite and be an expert at quickly cooking juicy, smoky, crusty, well-seasoned ribs.
How to Bake and Grill Ribs
It's a simple formula: Season the ribs and begin cooking them in the oven. After the meat starts to look done, transfer the ribs to the grill to get that delicious barbequed crust. Apply the sauce of your choice as directed. Choose your favorite kind of ribs – spare ribs or baby back – and start with one of these easy, delicious recipes offered here.
Recipe 1: Simple Backed and Grilled Ribs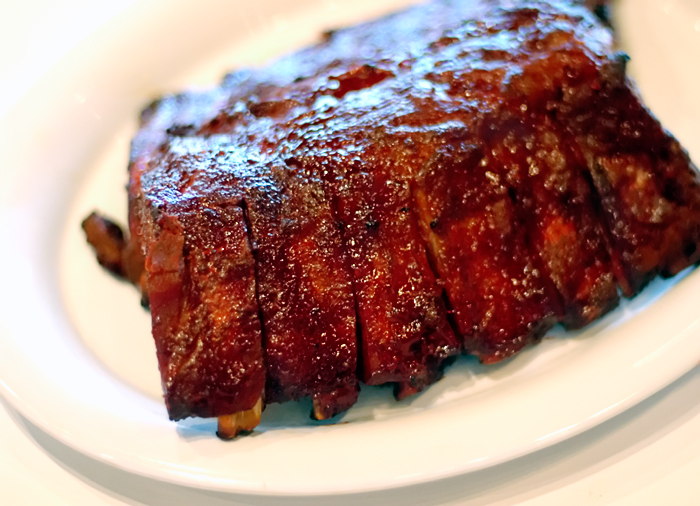 Ingredients: ribs, barbecue sauce
Directions:
Remove the membrane from the bony side of the ribs. After applying your favorite spice rub thoroughly to the ribs, seal them in a large plastic bag.
Refrigerate the ribs for two hours and take them out to let them reach room temperature.
Preheat oven to 325 degrees Fahrenheit and cover a baking sheet with two layers of aluminum foil.
Place the ribs on the foil and bake them for two hours.
Preheat your grill to between 200 and 250 degrees Fahrenheit. Arrange the charcoal at the outer edges of the grill or turn off a burner on the gas grill to create an uneven temperature on the surface.
Take the ribs out of the oven and place them on the portion of the grill without charcoal briquettes directly underneath or on the non-lit part of the gas grill.
After grilling the ribs for 90 minutes, apply barbecue sauce, flip, and grill for ten minutes. Do this twice more until the ribs have been on the grill for one hour.
Slice ribs into portion sizes and serve warm with extra barbecue sauce.
Recipe 2: Spicy Barbecue Ribs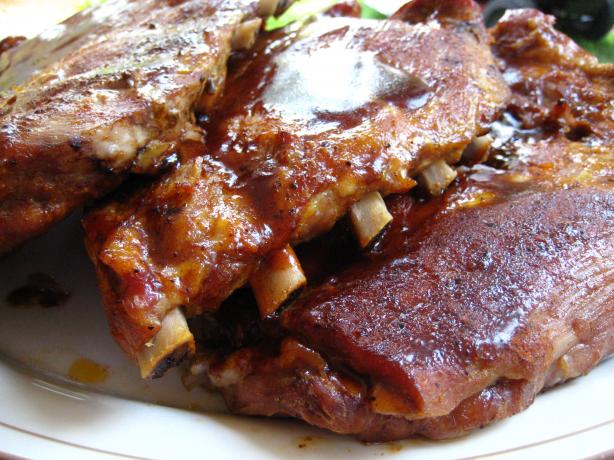 Ingredients: ribs, dry rub (light brown sugar, hickory smoke salt, paprika, garlic powder, ground red pepper), Sweet Baby Ray's Barbecue Sauce
Directions:
Remove the membrane from the bony side of the ribs and preheat oven to 300 degrees Fahrenheit.
Mix together the dry ingredients listed above to make the rub then apply the rub to all surfaces of the ribs.
Place ribs on two layers of aluminum foil, with the shiny side of the foil facing out and the meaty side of the ribs down. Cover them with two more layers of foil and crimp the edges to form a package.
Place ribs on a baking sheet, bake for 2 ½ hours or until meat begins to shrink away from the bone.
Remove ribs from oven and heat grill.
Cut ribs into portions of two or three ribs each and after arranging them on the grill with bony side facing up, brush on barbecue sauce.
Grill the ribs for one or two minutes until sauce is bubbly and cooked then turn ribs over and repeat on the other side. This is another way how to bake and grill ribs.
Recipe 3: Vinegary Barbecued Ribs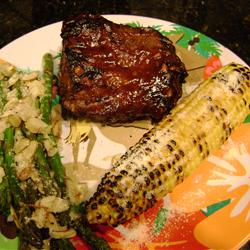 Ingredients: ribs, water, red wine vinegar, ketchup, cider vinegar, Worcestershire sauce, brown sugar, hot pepper sauce, and salt.
Directions:
Oven should be preheated to 350 degrees Fahrenheit.
Put ribs into two appropriately sized pans.
Combine red wine vinegar and water in a bowl and pour the mixture over the ribs. Cover with foil.
Bake ribs for 45 minutes. After about 20 minutes, baste the ribs with their juices.
Combine and boil water, vinegar, salt, ketchup, butter, mustard, brown sugar, Worcestershire sauce, and hot pepper sauce in a medium saucepan to make barbecue sauce and simmer it over low heat for one hour.
Take ribs from the oven and place them on a grill heated to medium and lightly oiled, throwing away cooking liquid.
Grill for 15 minutes and turn the ribs once. Apply barbeque sauce generously and grill for eight minutes.
Flip ribs, apply more barbecue sauce, and continue grilling for another eight minutes.
Recipe 4: Crispy Roasted Ribs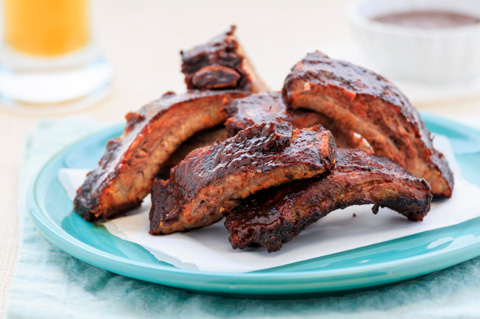 Ingredients: one slab of pork ribs (spareribs), dry rub (cayenne, t paprika, garlic salt, pepper, oregano, cumin, and allspice), orange juice, barbecue sauce
Directions:
How to bake and grill ribs? Try this recipe.
Preheat the oven to 275 degrees Fahrenheit.
In a small bowl, combine dry ingredients and generously apply dry rub to ribs.
Place ribs in a roasting pan and drizzle orange juice around the sides of the pan.
After covering pan with foil put ribs in the oven.
Check ribs for doneness after 3 ½ hours.
Liberally apply your favorite barbecue sauce to the ribs.
Roast ribs for approximately four hours until the meat begins to pull away from the bone.
Transfer the ribs to the grill and grill them for 15 minutes or so until crunchy. Cover ribs with barbecue sauce.
Recipe 5: Barbecue Ribs with Marinade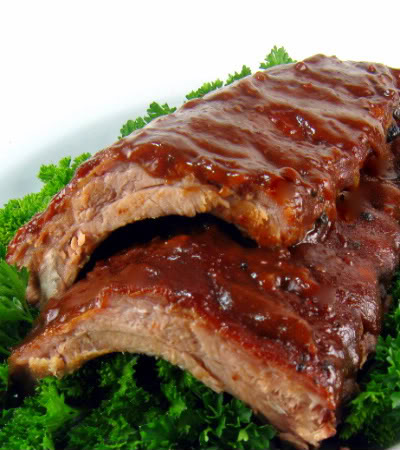 Ingredients: 5 pounds St. Louis-style pork ribs, vegetable oil, chopped yellow onion, minced garlic cloves, tomato paste, cider vinegar, honey, Worcestershire sauce, Dijon mustard, soy sauce, hoisin sauce, chili powder, ground cumin, crushed red pepper flakes.
Directions:
In a large saucepan, heat vegetable oil. Add garlic and onions to the oil and cook for 10 minutes.
Fold in vinegar, tomato paste, Worcestershire sauce, honey, hoisin sauce, mustard, soy sauce, chili powder, red pepper flakes, and cumin. Cook on low for 30 minutes leaving pan uncovered.
Save half of the above mixture to serve with finished ribs.
Place the ribs on a baking sheet, apply marinade liberally to both sides and bake for one hour in a 350-degree oven.
On a hot grill, cook ribs for between three and five minutes until one side is browned.
Flip the ribs and close the grill, leaving the vents open; then continue grilling for an additional 10 minutes.
On a serving platter, apply the marinade you set aside earlier and cover with foil.
Let ribs set for between ten and fifteen minutes then cut ribs into portion sizes.
Use leftover sauce for dipping if desired.