Last year Americans consumed a total of 16.1 pounds of shellfish and fish in comparison to a total of 183.6 pounds of poultry and meat. It is a fact that sea food is healthier than meat and poultry as it contains low amount of fat and high amounts of protein and omega-3 fatty acids. Hence, seafood should be consumed more. Out of the total seafood consumed by Americans, approximately 25% is shrimp and on average an American consumes 4 pounds of shrimp each year.
How Much Protein Is in Shrimp?
This depends on the method by which it is prepared. A 3-ounce serving of shrimp that has been steamed contains 19 g of protein, whereas a 3-ounce serving of fried, breaded shrimp and canned shrimp contains 18 g and 17 g of protein, respectively. The amount of protein present in shrimp is similar to protein that a serving of roasted turkey, ham or lamb contains. According to the USDA National Nutrient Database, the serving size of fried and breaded shrimp served in fast food chains is around 5.8 ounces; however, it contains only 12.86 g of protein.
How much do people need: According to the US Department of Agriculture Dietary Guidelines of the year 2010, the protein recommendation range is calculated on the basis of various factors such as age, activity level and gender. The standard range of protein recommended is 50 to 175 g every day. It is 10-35% of the daily nutrient intake. Protein should take up 200-700 calories out of the average 2,000 calorie diet per day. One gram of protein provides 4 calories.
Other Nutrition Facts in Shrimp
Apart from protein, the other nutritional contents of shrimp are:
1. Calories
Around 7 calories are present in 1 medium size shrimp, which implies that less than 85 calories are present in a dozen shrimp–approximately 15 calories less than that in 3 ounces of chicken breast. Besides, 14 calories are present in 1 jumbo shrimp (the type of shrimp served in cocktail of shrimp) and a tsp. of cocktail sauce contains 5 calories. Hence, 3 jumbo shrimp with 3 tsp of cocktail sauce served as an appetizer provides less than 60 calories. This amount is around 10 calories less than that in 1 pig in a blanket and around 20 calories less than that in 2 mini quiche or 2 mini empanadas.
2. Cholesterol
Around 107 mg of cholesterol is present in a serving of shrimp. According to the USDA recommendation, no more than 300 mg of cholesterol should be consumed each day. Shrimp combined with other foods high in cholesterol such as eggs can accumulate and lead to an overconsumption of cholesterol. This may lead to heart complications such as clogging of arteries.
3. Omega-3 Fatty Acids
Besides knowing how much protein in shrimp, you should also know another good nutrient that shrimp has – Omega-3 fatty acids. Though cholesterol is present in shrimp, it is also a rich source of PUFA (polyunsaturated fatty acids), especially omega-3 fatty acids, docosahexaenoic acid and eicosapentaenoic acid. Omega-3 fatty acids help in the development of retina and brain in infants. They also help decrease the risk of cardiovascular disease by reducing inflammation, preventing blood clot formation and regulating blood pressure. They also assist in maintaining the function of kidney and promoting the health of immune system.
4. Minerals and Vitamins
Shrimp is also a rich source of minerals such as zinc, iron and copper, which are required in hemoglobin and cell structure formation and in wound healing. Shrimp also contains rich amount of selenium, a mineral which has antioxidant properties that help in slowing the growth of cancer cells and repairing DNA. Moreover, shrimp is also a rich source of vitamin B-12, which is needed for maintaining good health of the nervous system. According to the USA dietary guidelines, shrimp also has minimal amount of mercury.
5. Amino Acids
Shrimp is a rich source of tryptophan, an essential amino acid. According to Psychology Today tryptophan helps in stabilizing mood by causing an effect on the neurotransmitters in the brain. It also helps in maintaining balanced sleep patterns.
How to Cook Delicious Shrimp
After discussing how much protein in shrimp, now let's have a look at few tasty recipes made from shrimp.
1. Tasty Garlic Shrimp
| | | | |
| --- | --- | --- | --- |
| Ingredient | Amount | Ingredient | Amount |
| Olive oil | 1-1/2 tbsp. | Red pepper flakes | ¼ tsp. |
| Caper brine | 1 tbsp. | Lemon juice | 3 tbsp. |
| Shrimp, peeled and deveined | 1 pound | Italian flat leaf parsley, divided and chopped | 1/3 cup |
| Cold butter | 1-1/2 tsp. | Cold butter | 1-1/2 tbsp. |
| Salt | To taste | Water | As needed |
| Garlic, minced finely | 6 cloves | | |
Time & Serving
| | |
| --- | --- |
| Total Time | 25 minutes |
| Serving | 4 |
Direction
Heat olive oil over high heat in a heavy skillet. When it stars smoking, put shrimp on the bottom of the pan forming an even layer. Let it cook for 1 minute and do not stir it.
Add salt, stir and cook till shrimp starts to turn pink and this takes about 1 minute.
Add red pepper flakes and garlic, stir and cook for another minute. Add lemon juice, 1-1/2 tsp. cold butter, caper brine and half amount of parsley.
Cook till the butter melts, around 1 minute. Lower the heat and add another 1-1/2 tbsp. cold butter. Stir and cook till the butter melts and forms a thick sauce and shrimp becomes opaque and pink, around 2-3 minutes.
Take a slotted spoon and transfer the shrimp to a bowl, leave the sauce in the skillet to cook, add 1 tsp. water at a time if it becomes thick. Cook for around 2 minutes. Add salt to taste.
Serve shrimp covered with pan sauce. Use the remaining half amount of parsley to garnish.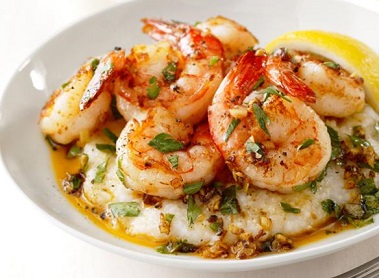 2. Gorgeous Grilled Shrimp Scampi
How much protein in shrimp? A lot! So here comes another great recipe to add that healthy protein into your diet.
| | | | |
| --- | --- | --- | --- |
| Ingredient | Amount | Ingredient | Amount |
| Olive oil | ¼ cup | Minced garlic | 1 tbsp. |
| Medium shrimp, peeled and deveined | 1-1/2 pounds | Red pepper flakes, crushed | To taste |
| Fresh parsley, chopped | 3 tbsp. | Black pepper, ground | To taste |
| Lemon juice | ¼ cup | | |
Time & Serving
| | |
| --- | --- |
| Total Time | 36 minutes |
| Serving | 6 |
Direction
In a large bowl, add lemon juice, olive oil, garlic, parsley and black pepper and stir. Add crushed red pepper. Add shrimp and coat with the mixture. Keep in the refrigerator for ½ hour to marinate.
Preheat grill at high heat. Put shrimp into skewers.
Oil the grill grate lightly. Put the skewers and grill for around 2-3 minutes on each side or till shrimp are opaque.