Death is inevitable and sometimes you have to say a final farewell to someone you love or care about. While you can wear whatever you want on other formal occasions, you always need to follow certain rules when attending funerals. Knowing what to wear to a funeral is important to show your respect to the deceased and the grieving family. With some understanding of the occasion and perhaps some planning, you can attend a funeral while looking tasteful and appropriate.
General Rules on What to Wear to Funerals
Even if you love wearing casual clothing and flip-flops, you cannot stick to the same when going to a funeral. You have to follow certain rules to pay your respects while looking sophisticated.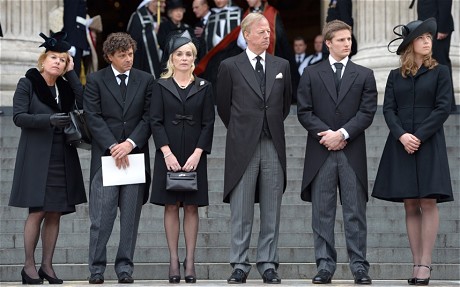 1. Choose a Proper Color
Considering the funeral dress code, the best option for color is always black. Sometimes, the attendees are asked to wear black, but if that is not the case, you can also wear other dark colors, such as nave blue or even gray. If the family of the deceased has asked you to follow a certain dress code, acknowledge their request. Otherwise, you can always opt for your office attire, such as a white shirt with a black jacket and a midi pencil skirt in black.
2. Be Conservative
When trying to determine what to wear to a funeral, you need to understand that funerals are solemn events. It is for this reason that you need to behave conservatively and maintain a reverent attitude. Wear a simple dress – a nice business suit fits the bill perfectly. It is a good idea to cover your knees and shoulders.
3. Avoid Heavy Jewelry
It is true that jewelry can make you look stylish and elegant, but you have to go easy on jewelry when attending funerals. Sticking with one ring per hand will help keep you from looking overly adorned. It is also a good idea to limit yourself to a wedding band and a watch. It is important to dress in a way that reflects a mourning spirit, rather than drawing attention with flashy jewels.
3. Hat Is Allowed
If you love wearing a hat, you can go ahead even when you are off to a funeral. Hats work great to give you a polished look and even help complete your look in a classic yet stylish way. Opt for a fedora style with a classic black trench. While hats are allowed, you should not wear one that looks outlandish or gauche.
4. Pay Attention to Your Shoes
You will be standing and walking a lot during a funeral, so it is important to pay special attention to your shoes. It is important to select a pair of comfortable shoes if you are going to attend the graveside service. You will already be experiencing the stress when attending funerals, so you really cannot afford to make things worse by worrying constantly about your biting shoes. Do not wear high heels and opt for comfortable shoes only. Just do not go for Timberlands, flip-flops and athletic wear, but you can always opt for dress shoes to have a polished yet elegant look.
5. Consider Weather
When determining what to wear to a funeral, you need to consider the weather as well. Select your dress considering the temperature. You may consider bringing multiple outfits with you when attending funerals out of town. It is fine for men to wear jackets when they are inside for any services, but they can take it off when outside. Keeping an umbrella with you is also a good idea, especially if you think it may rain.
Specific Clothes to Wear to a Funeral
There will always be some do's and don'ts associated with clothing that works fine for funerals, and the following tips will help you make a right choice.
1. For Men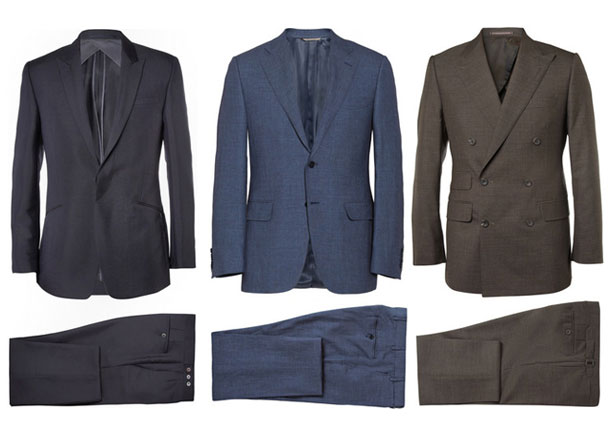 The most appropriate attire for men is a gray, black or dark blue suit with a collared shirt and tie. Here are some other tips:
Always opt for long-sleeved shirts with a collar
Be sure to wear a belt and tuck your shirt in your trousers
Opt for dress shoes or wear loafers
Jeans do not work great for funerals and the same is true for shorts
Wear hats but avoid baseball caps
You can always wear a dress suit with tie or try other combinations such as slacks, button down shirt, tie; slacks, belt, and polo shirt; slacks, vest; and slacks, blazer, and button down shirt.
2. For Women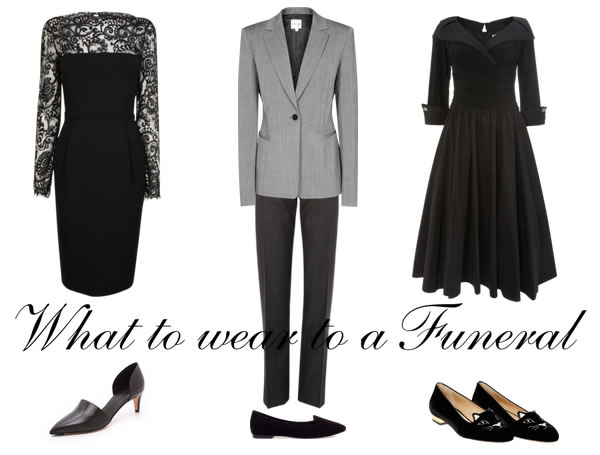 The best choice for women is also a black suit with a skirt and blouse. Here are some other tips to understand what to wear to a funeral:
Use something to cover your shoulders or wear an outfit that covers them
Opt for tasteful color accents if you want to
Ensure that skirts keep your knees covered
Do not go for bright sundresses or anything overly revealing
Some of the most appropriate funeral outfit ideas are pantsuit, skirt suit, skirt with blouse, pants and top with sleeves, and skirt and sweater.
3. For Children
It is important to pay attention to what your children wears when you take them with you to attend a funeral. Little boys should wear a black suit, whereas little girls should wear a dress that flows straight down from the shoulders without any excessive sequins or beading. For shoes, girls can wear plain black sneakers or ballet flats, whereas boys can opt for loafers or black dress shoes.