Chicken wings are undoubtedly one of the most popular items on any bar or pub menu. But many recipes at restaurants make this tasty and nutritious food suffer a lot. An average serving is over 400 calories and high in saturated fat, sodium and grease. This article will show you how to bake your own tasty boneless wings at home. Just enjoy!
How to Bake Boneless Chicken Wings
Recipe 1: Baked Boneless Chicken Wings with Eggs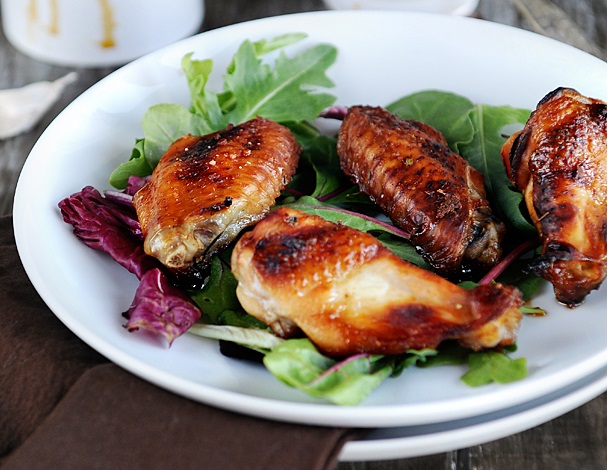 Total Time Needed: 55 mins
Prep Time: 20 mins
Cook Time: 35 mins
Ingredients:
2 lbs. of boneless chicken breast, and cube it into pieces about 1 ½ inch wide
1/2 cup flour
4 large eggs
Plain or homemade breadcrumbs
Garlic powder
Salt
Olive oil
Red cayenne pepper
Buffalo or your favorite wing sauce
Directions:
Preheat the oven to 400 degrees Fahrenheit. Use a non-stick cookie tray or pan. Use non-stick spray if needed. Take out 3 medium sized mixing bowls.
Prepare the breading by mixing plain or homemade breadcrumbs, salt, pepper, garlic powder and a few dashes of red cayenne pepper. Set up a large plate or platter to use during the breading process.
Add the chicken cubes to one of the mixing bowls. Pour milk over the chicken to cover it completely. Add the flour to another mixing bowl. Lightly beat the eggs in the last bowl. You can add a tsp. of milk from the other bowel and stir.
Dip the chicken in the flour to coat it evenly. Then dip 5 or 6 cubes into the bowl containing the eggs. Evenly coat the chicken cubes with the breadcrumb mixture. Place them gently on the cookie sheet or pain.
After all the chicken is added to the cookie sheet; spray the cubes lightly with olive oil or cooking spray. Add salt and pepper to your preference.
Bake in the oven for 20 minutes. Turn the chicken over and re-spray with olive oil or cooking spray. Add additional salt and pepper if desired. Then cook for an additional 15 minutes.
Remove from the oven and drizzle on your favorite wing sauce and set some aside for additional dipping. You are ready to enjoy healthy version of boneless chicken wings!
Recipe 2: Baked Boneless Chicken Wings with Milk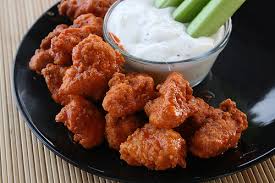 Total Time Needed: 80 mins
Prep Time: 10 mins
Cook Time: 20 mins
Ready to Eat: 50 mins
Ingredients:
Oil (olive, peanut or cooking oil) for deep frying
1 cup all-purpose flour (unbleached)
1 cup milk
2 tsp. salt
1/2 tsp. ground black pepper
1/4 tsp. garlic powder
1/2 tsp. cayenne pepper
1/2 tsp. paprika
1 egg
3 boneless, skinless chicken breasts (cut into 1/2-inch strips)
1/4 cup hot pepper sauce or favorite hot sauce
1 tsp. butter
Directions:
Choose a deep-fryer or large saucepan and add your favorite oil -peanut or extra virgin olive are excellent.
Heat the oil in a deep fryer or a large saucepan to 375°F (190°C).
Combine flour, cayenne pepper, garlic powder, salt, black pepper and paprika in a large mixing bowl. Whisk egg and milk together in a small bowl. Dip every piece of chicken in the egg mixture, and then roll in the flour spice blend. Double coat so that each piece is dipped and rolled twice. Place in refrigerator for 20 minutes to allow coating to setup.
Place the chicken in the oil and fry for about 5 minutes. The exterior will be nicely brown and the juices will run clear if a piece is cut.
Combine the butter and your favorite hot sauce in a small bowl and microwave until melted, 20 to 30 seconds. Pour sauce over the cooked chicken; mix well to coat all the pieces.
Set aside any leftover sauce for dipping.
Recipe 3: Spicy Baked Boneless Chicken Wings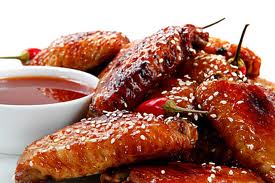 Total Time Needed: Approx 2 hrs
Prep Time: 20 mins plus 1-2 hrs for marinating
Cook Time: 20 mins
Ingredients:
1.5-2 lb. tenders or chicken breast (cut into chunks)
1-2 packets Shank n Bake coating or your favorite mix
1 cup buttermilk (lowfat)
2 tbsp. melted butter
1/2 cup hot sauce - Franks or Tabasco
1 tbsp. honey
Directions:
Preheat the oven to 450°F.
Prepare the chicken by cutting up into chunks or cubes. Add the chicken and buttermilk to a big zip lock bag, and let it marinate for 1 to 2 hours.
Put breadcrumbs, coating or Shake n Bake in a small bowl.
Shake off the extra buttermilk from the chicken and coat the chicken with Shake n Bake or your favorite coating.
Place on a lined or greased cookie sheet. Bake for 10 minutes and then flip and bake for another 10 minutes. The coating will be crispy and the chicken should be cooked through.
Mix the hot sauce, honey and melted butter in a bowl. Cover the cooked chicken with the sauce and serve.
Any excess sauce can be used for dipping.
Recipe 4: Baked Boneless Chicken Wings Using Tenderloins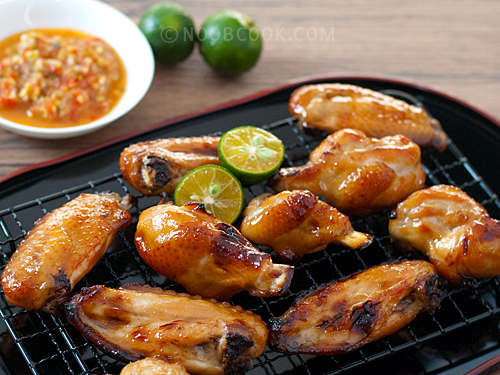 Total Time Needed: 50 mins
Prep Time: 20 mins
Cook Time: 30 mins
Ingredients:
2 1/2 lbs. chicken tenderloins or breast
4 eggs
1 tbsp. salt
1 tbsp. pepper
2 cups of flour
1/4 cup olive oil or cooking oil
Directions:
Cut chicken tenderloins into thirds or use boneless, skinless chicken breasts. The cut pieces will closely approximate the size of chicken wings.
Preheat oven to 350°F.
Place the eggs into a large mixing bowl and whisk lightly. Add the chicken pieces into the eggs and soak for 8-10 minutes.
Add the flour, salt and pepper to a shallow pan or large plastic bag. You can add extra spices if you like such as garlic powder, curry or other flavors. Add the chicken and mix or toss to coat the chicken with the flour mixture.
Lightly cover a lined baking sheet with olive or cooking oil. Roll the chicken while adding to the pan. Coating the chicken with the oil will help it to brown and crisp nicely.
Cook the chicken for 15 minutes and then turn the pieces over. Continue cooking until the outside is crispy brown and the chicken is tender.
Serve with your favorite barbecue dipping sauces, or ranch or honey-mustard. The classic hot sauce is a popular option as well. Just mix a tsp. of butter with a tsp. of your favorite hot sauce. Microwave until butter is melted and stir. You now have a perfect dipping sauce to compliment your boneless baked wings.
Recipe 5: Boneless Chicken Wings (210 calories option)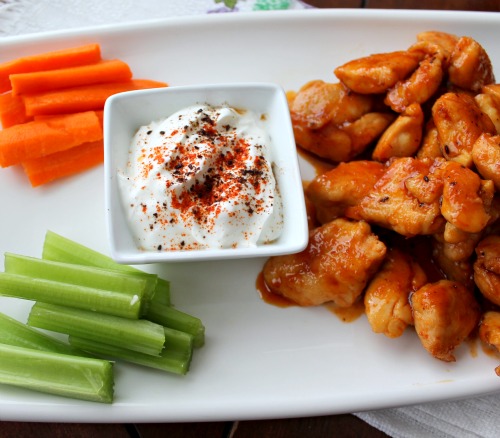 This recipe is about 210 calories per serving. The above recipe makes enough to serve 4.
Total Time Needed: 45 mins
Prep time: 15 mins
Cook time: 30 mins
Ingredients:
1 lb. skinless boneless chicken breast or tenders, cut into bite sized or cubes
4 egg whites
1 cup of Panko Bread Crumbs or seasoned Italian bread crumbs
3/4 cup skim milk (for low fat option), or unsweetened coconut milk
1 tbsp. Garlic Powder
1 tbsp. Chili Powder
Pepper and salt to taste
1 tbsp. onion powder
2 tbsp. hot sauce (Frank's Red Hot or your favorite)
Directions:
Cut the chicken into bite sized cubes.
Preheat the oven to 400°F.
Whisk coconut milk and egg whites together in a large bowl. Place chicken cubes into mixture and let it marinade for 10 minutes in the refrigerator.
Mix the spices in a separate bowl or Ziploc bag and mix well.
Take the chicken out from the refrigerator and remove excess liquid from the egg & milk mixture. Put chicken into the seasoned panko breadcrumbs.
Spread the breaded chicken bites evenly onto a lined baking sheet or pan. Lightly cover the baking sheet with tin foil and a light coating of olive oil to prevent sticking.
Bake for 15 minutes and turn and bake for another 15 minutes or until cooked through.
Remove the chicken bites from the oven and toss them with the hot sauce in a large bowl. Start with 2 tbsp. and add more depending on your preference.