Lyndsey Ekstrom went to the salon to have purple-and-white zebra nail wraps applied to her toes. While watching the stylist bond the wraps to her nails with just a few swipes of a min-heater, she got an idea. Why not create and produce a product line of custom nail wraps that could be directly marketed to the public online. Lyndsey, with a little help from her two sisters, began testing a product in 2010, and by June 2011, launched a new e-commerce site called Jamberry Nails, offering more than 300 styles of vinyl nail wraps in a variety of styles and colors, from basic to bold.
Are Jamberry Nails Safe for Your Nails?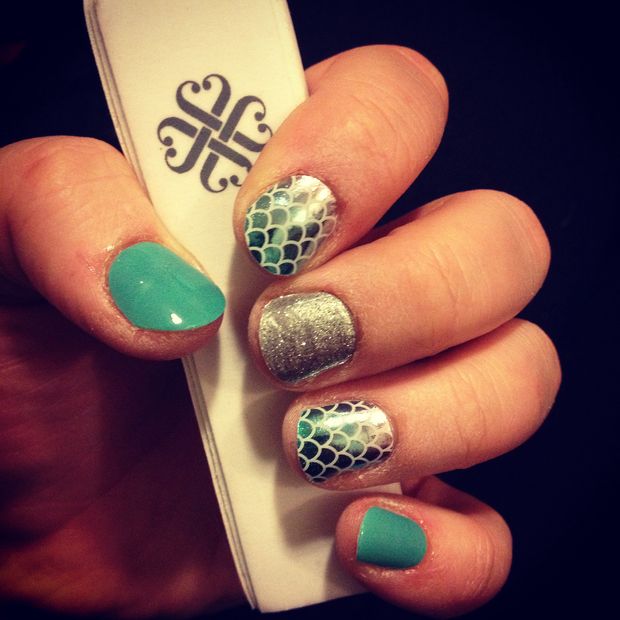 Jamberry claims that their nail wraps offer a safer, simpler, and a more cost effective way of keeping your hands looking polished when compared to traditional nail polish. However, opinions vary on the safety of their product. Are Jamberry nails safe? The company claims that they're non-toxic, latex free, gluten free and vegan! Jamberry's also claim that as long as you follow one of their removal processes, they will not damage your nails, but consider the following concerns from some users:
If you don't soak the Jamberry wraps before removing them, they'll damage your nails.
Some users have reported that the Jamberry wraps caused damaging fungal growth between the wrap and the nail.
Some Testimonials
"I really did love the Jamberry wraps when I tried them out, they were awesome!The trouble for me came when I tried to remove them. I tried several different ways, including soaking them, but none worked. It ended up wrecking my nails, and three months later they still have not grown back healthy. Are Jamberry nails safe for your nails? My answer is No!"
"People need to be careful when using Jamberry nails on their toes. When I removed mine after only 11 days my large toenails had developed white spots where the nail had separated from the nail bed. The doctor told me it was probably caused by trapped moisture between the wrap and the nail....so gross!"
"I just tried a sheet of Jamberry wrap and I'm delighted with them. They last a super long time and are so easy to apply, and I didn't have any problem at all removing them. Mine lasted for three weeks!"
"What a great product, and cost effective too. Now I don't have to go to the salon to get great nails. They're so easy to apply, just a few swipes of a dryer, but are Jamberry nails safe for your nails? When I removed mine 2 weeks later, they came off with no problems at all, and I'll continue to order this product in the future."
Tips to Remove Jamberry Nail Wraps to Avoid Damage
1. Floss Method
To use the floss method, all you have to do is take a floss pick and start to wiggle it under your wrap and slowly floss it off your nail. Once you've got it started, use a sawing motion back and forth working forward to remove the floss from the back of the nail towards the front. This process is made even easier when you soak them in hot water first. After the wrap has been properly removed, your nails will be clean, healthy, and ready for a new wrap.
2. Shower or Hot Tub Method
Another great way to remove Jamberry wraps are when you're taking a hot bath or shower. When your nails are nice and hot, you can just use your fingers to break the seal by gently working the wrap from side to side underneath the wrap. While you are doing this the wrap will slowly pull away from your nail.
3. Warm Coconut Oil Removal Method
Using warm coconut oil is a natural way to help moisturize your hands, but did you know you could also use it to help remove Jamberry wraps? Just heat up a couple of tablespoons of coconut oil like you normally would, remembering not to get the oil too hot. New users can use their mini-heater. Once your oil is warm, simply soak your nails in the oil. Use your finger to break the wraps seal, and gently work the coconut oil under the wrap and slowly peel the wrap away from your nail.
4. Rice Bag Removal Method
Begin by heating up a rice bag in the microwave. Apply the rice bag to your nails and allow the steam and warmth of the rice bag to work on your nail wraps. As the wrap becomes warmer, it will begin to soften the bond, allowing you to remove the wrap. Break the wraps seal with your finger and slowly work the wrap off your nail. You can also use this method with the floss pick if desired.
5. Lemon Juice and Hot Water Soak Method
Another gentle but effective way to remove Jamberry wraps is to use lemon juice and hot water. Just soak your nails in the hot water and lemon juice. While the hot water makes the wraps pliable, the acid in the lemon juice helps break down the glue, making it easier to peel away from your nails.
6. Heat Removal Process
Probably the most effective way to remove Jamberry wraps is the same method you used to put them on. You can use the mini-heater to help you get them off by heating them back up again until you're able to break the wraps seal, and then gently massaging them until they come completely off.