Nachos are a common Mexican food that is made from crispy pieces of tortillas topped with cheese. You can also add additional toppings that can make the dish more interesting or complex.
Ignacio Anaya is commonly credited with creating the first nachos. Rumors state that a large group of service members entered his restaurant wanting something to eat, forcing Anaya to put together a dish with the ingredient he had on hand. This wound up being a plate of nachos. These were so popular with Anaya's guests that other restaurants quickly began replicating the dish because it was easy to make and only required cheap ingredients. Since then nachos have been expanded to include more ingredients and additional cooking methods such as using the oven, allowing people to put their own spin on this classic dish.
How to Make Nachos in the Oven
Recipe 1: Simple Cheese Nachos
Servings: 4-6
Ingredients: 14 ounces tortilla chips and 1 pound of shredded cheddar cheese.
Instructions: Place a rack in the middle of the oven and heat your oven to 450 degrees F. Line a baking sheet with aluminum foil and place the chips in an even layer on the sheet. Shred the cheese and spread evenly over the chips, covering as much of the chips as possible. Place the nachos in the oven for 5 minutes or until the cheese is bubbling and has melted. Remove from the oven and serve.
Recipe 2: Nachos with Ground Beef
Servings: Servings for this recipe will vary based on the amount of chips you use and how the ingredients are spread about the dish.
Ingredients: Tortilla chips, a can of refried beans, a can of black beans, a can of kidney beans, a can of diced tomatoes, a can of black sliced olives, 2 pounds ground beef, a white onion, ¼ cup fresh or pickled jalapenos, 2-3 cups shredded pepper jack cheese, a tablespoon lime or lemon juice, 3 tablespoons cilantro. Sour cream or homemade guacamole are optional.
Instructions: Add the tomatoes with juice to a saucepan and heat on a medium degree setting on your stovetop. Add the refried beans to the saucepan, combining them with the tomatoes and juice. Rinse the cans of whole beans, adding them along with the lime or lemon juice to the pan. Taste and add salt to the mixture as desired. Meanwhile, preheat your oven to 350 degrees F or 175 degrees C. Take a second saucepan and heat it to medium. In this saucepan cook the ground beef until it is browned through and strain away the excess grease. Dice the onion and add it to the beef, cooking it until the onion is translucent. Dice and add the jalapeno to the pan and remove from the heat. Pour the beef into a casserole dish and pour the bean mixture over it. You will not have to grease the casserole before adding these ingredients. Cover the ingredients in the casserole with the cheese and garnish with cilantro and olives as desired. Bake this mixture in the oven until it is slightly browned and the cheese has melted. Provide a communal bowl of tortilla chips your guests can spoon the mixture onto. You may accompany this with dishes of sour cream or guacamole if desired.
Recipe 3: Vegetarian Nachos
How to make nachos in the oven? This one is for those on a vegan diet.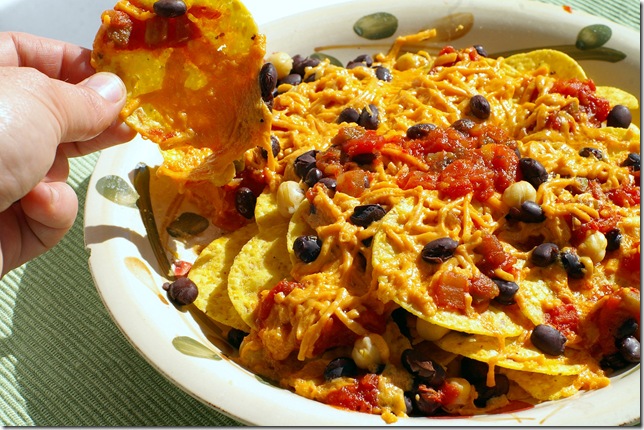 Servings: Servings will vary based on how you spread the toppings and the amount of chips used in preparation.
Ingredients: Large, flat tortilla chips, one green pepper, a can of black beans, half a can of black sliced olives, 2-3 cups shredded cheddar cheese, ¼ cup fresh or pickled jalapenos. You may also choose to add homemade guacamole, a tablespoon of cilantro or sour cream.
Instructions: Preheat your oven to 350 degrees F. Take a baking sheet and line it with aluminum foil. Cover the sheet with tortilla chips, making sure most of the chip is visible but the ban is mostly covered. Sprinkle the cheese and beans onto the chips. On top of these ingredients add the olives, green pepper and jalapeno or cilantro as desired. Covering more of the chips with toppings can help prevent burning. Place the nachos in your oven, leaving the door cracked so they do not get too hot. Watch the nachos carefully, removing them when the chips are slightly brown and the cheese has melted. Top your nachos with guacamole or sour cream if desired and serve.
Recipe 4: Baked Nachos with Chicken Breast
Servings: 6
Ingredients: 8 ounces tortilla chips, one halved boneless, skinless chicken breast, a can of refried beans, ¼ cup chopped scallions, 1.5 cups shredded pepper jack cheese, half a cup sour cream.
Instructions: Grease a 9x9 baking dish and preheat your oven to 350°F or 175°C. Put your chicken breast on a microwave safe plate, cover it with a piece of paper towel and microwave on high for 10 minutes or until the meat is no longer pink. Allow the meat to cool so it is safe to touch and shred it with a knife. Warm the refried beans in a saucepan, stirring until they are warmed through. Place half of the chips, a half cup shredded cheese and the scallions on the bottom of the baking dish. Spoon the beans over this mixture and sprinkle with another half cup cheese and a layer of sour cream. Add the shredded chicken on top of this layer. Add the final half cup cheese to the top of the casserole. Bake the nachos in your oven for 15-18 minutes or until the all of the layers of cheese have melted.
Recipe 5: Spicy Baked Nachos
How to make nachos in the oven? This one is for those who love spicy food.
Servings: 4
Ingredients: 14 ounces plain tortilla chips, 7 ounces shredded mature cheddar cheese, 7 ounces of jarred sliced jalapeno chilies. Optional for serving: 5 ounces sour cream or a handful chopped coriander. For Salsa: 3-4 deseeded tomatoes finely chopped, a chopped deseeded red chili, a peeled clove of garlic, the juice of a large lime, a half teaspoon extra virgin olive oil and a dash of Tabasco. For Guacamole: 2 ripe avocadoes peeled with the stones removed, 2 spring onions that have been finely diced, a chopped deseeded chili, a large chopped deseeded tomato, half a clove of peeled garlic, the juice of a large lime, salt and pepper to taste.
Instructions: Preheat the oven to 430 degrees F or 220 degrees C. Use a fork to mash all ingredients for the guacamole together in a bowl and set aside. Cover this mixture and place in the refrigerator to prevent the guacamole from turning brown while you cook. Mix all salsa ingredients together in a bowl and mix until they are well combined. Set this mixture aside until necessary. Spread the tortilla chips out on an ovenproof dish and cover them in the cheese and jalapenos. Place the nachos in the oven for 4-5 minutes until the cheese is melted. Remove and cover the nachos in the salsa, guacamole, sour cream and coriander as desired.