Chicken wings are the small triangular shaped part towards the front of the chicken opposite the legs and thighs. Chicken wings are dark meat and are best eaten by themselves since there usually isn't enough meat to de-bone and use in recipes. Because they are small, recipes usually call for about a few dozen wings to feed a small family.
Chicken wings are healthy as long as you attempt to keep them low-calorie. This is tricky since wings with sauce are so tasty. Deep frying will also add to the fat content of the wings, but the portion sizes are smaller so the calorie count will be slightly less than a full portion of dark meat. An average portion size of chicken wings as an appetizer is about 6 to 8 wings at about 100 calories per wing. If you eat wings for a meal, you may need almost double that amount to feel full. What this means is you should keep high calorie type wings at about an appetizer size portion for a meal. The good news is; chicken wings go great with side dishes and as part of a multiple course meal.
How to Make Breaded Chicken Wings
The popularity of chicken wings is growing with the birth of the "wing bar" type restaurant. They boast the preparation of wings with different sauces such as barbeque sauce, buffalo sauce, honey mustard, parmesan cheese, bleu cheese dressing, teriyaki sauce and garlic sauce. There are also many different ways to cook wings; you can deep fry them, bake them, grill them and fry them breaded. Let's look at a few different ways to cook chicken wings:
Recipe 1: Fried Breaded Chicken Wings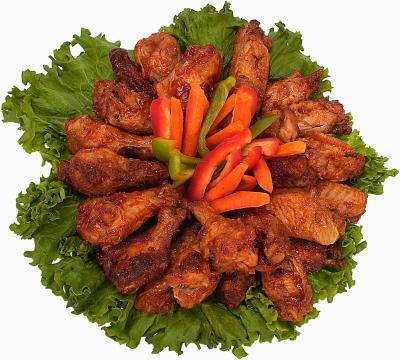 Serves: 6 people (Serving size 8 wing sections per person)
Ingredients:
Two dozen chicken wings
Cooking Oil
2 Cups Flour
2 Tsp. Salt
2 Tsp. Pepper
2 Tsp. Paprika
2 Tsp. Garlic Powder
Instructions:
Fill your deep fryer with cooking oil and preheat to 375 degrees F. While your oil is heating up, separate wings at the joint into two sections. You will end up with 48 wing pieces. Rinse them under warm running water and lay on a towel. Place flour, salt, pepper, paprika and garlic powder into plastic bag and mix well. Take 8 to 10 pieces of moistened chicken and drop into bag, close and shake vigorously to coat the wings. Coat all of the wing sections with the flour mixture and lay out until oil is heated. Begin to fry the wings in the heated oil about 6 at a time for 8 to 10 minutes until they are a golden brown color. Take them out of the fryer and place on paper towels or napkins to absorb excess oil. You can keep wings warm and make them extra crispy by transferring them into a warm oven until you are ready to serve them.
Recipe 2: Breaded Chicken Wings with Saltine Crackers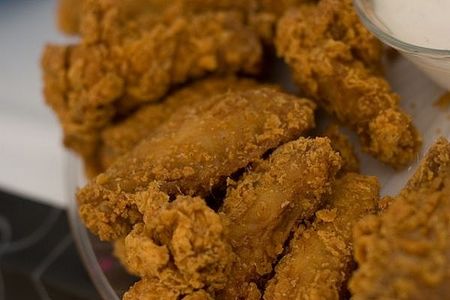 Serves: 6 to 8
Ingredients:
4 lbs. Chicken Wings (Split at joint section)
1 C. Crushed Saltines
1 Tsp. Salt
1 Tsp. Pepper
1 Tsp. Thyme
1/2 Tsp. Garlic Powder
1/4 Tsp. Cayenne Pepper
2 Eggs
2 C. Buttermilk
Cooking Oil (Peanut is recommended)
3 C. Flour
Instructions:
Preheat oil to 350 degrees. While oil is heating, beat eggs in large bowl and add buttermilk. Place wing sections into egg and buttermilk mixture and marinate in fridge for a half-hour. In another bowl; mix crackers, flour, salt, pepper, thyme, garlic powder and cayenne pepper. Remove wings from fridge and pull them out of the buttermilk solution and allow to slightly drain. Dip wings into flour/cracker mixture and coat completely. Drop them about 6 at a time into hot oil and cook for 10 minutes until lightly browned. Drain excess grease on towels.
Recipe 3: Baked Breaded Chicken Wings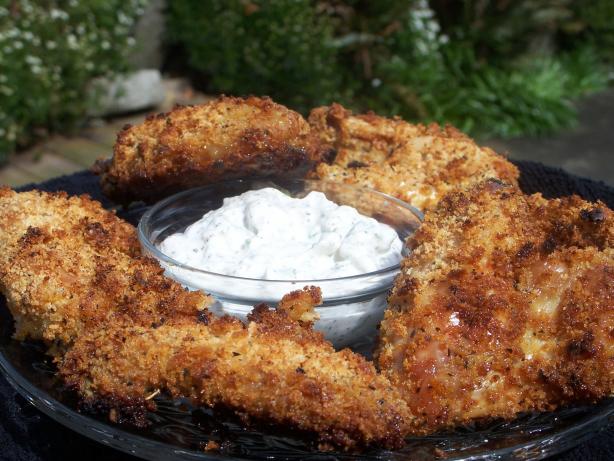 Serves: 1 (Small serving, but can be doubled or tripled)
Ingredients:
2 Chicken Wings
1/8 C. Bread Crumbs
1 Egg
1/8 Tsp. Garlic Salt
1/8 Tsp. Paprika
1/4 Tsp. Basil
1/4 Tsp. Onion Powder
1/4 Tbsp. Water
Instructions:
Preheat oven to 425 degrees. While oven is preheating, mix breadcrumbs and spices in bag and mix well. Crack egg into bowl and add water. Wisk egg and water until mixed thoroughly. Separate wings at joints and throw out tips. (You can use wing tips to boil into broth if desired). Place wing sections into egg mixture and then place in bag with breadcrumb mixture and shake well until coated. Place into baking dish and bake for 15 minutes and then turn. Bake another 15 minutes. Wings are done when the juices are clear and no pink remains.
Recipe 4: Spicy Breaded Chicken Wings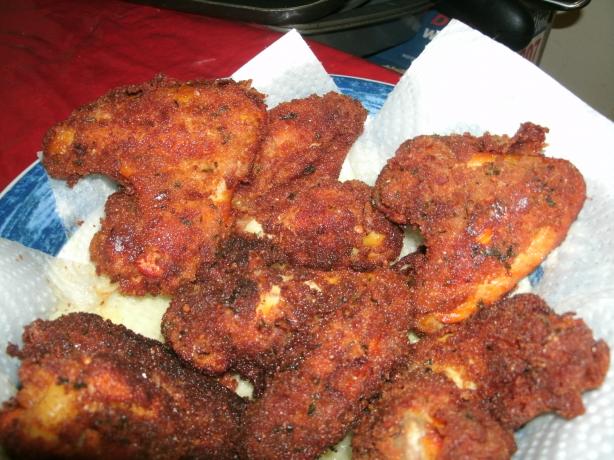 Serves: 6 (3 - 4 pieces each)
Ingredients:
10 Chicken Wings
2/3 C. Breadcrumbs
1 Tsp. Onion Powder
1/2 Tsp. Paprika
1/2 Tsp. Garlic Salt
1 Tsp. Basil
1 Tsp. Cayenne Pepper
1 Egg
1 Tbsp. Water
Instructions:
Preheat oven to 425 degrees. In a large bowl, mix bread crumbs and spices together. In another bowl, whisk egg and water together. Split wings at the joint sections and place the tips aside to use for broth making later. Take wing sections and dip them in egg and then into crumb mixture. Place in baking dish and bake for 10 minutes then turn. Bake for another 10 to 15 minutes until juices run clear. Serve with dipping sauce.
Dipping Sauce:
2 Tbsp. Honey
2 Tbsp. Ketchup
1 Tbsp. Worcestershire sauce
1/2 Tsp. Pepper Sauce
Mix ingredients together in a bowl and place in fridge until wings are ready.
Recipe 5: Breaded Parmesan Chicken Wings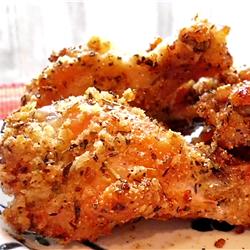 Serves: 4
Ingredients:
1 lb. Chicken wings, without tips
3 Tbsp. plus 1/2 Tsp. Parmesan Cheese (Dry kind in the jar)
3 Tbsp. plus 1/2 Tsp. Breadcrumbs
1/4 Tsp. Salt
1/8 Tsp. Black Pepper
1/8 Tsp. Garlic Powder
1/8 Tsp. Onion Powder
1 Tbsp. plus 1.75 Tsp. Melted Butter
Instructions:
Heat oven to 400 degrees and place a sheet of foil on baking dish or sheet. In large bowl, mix parmesan cheese, breadcrumbs and spices. Melt butter in small bowl and dip wing sections into bowl. Transfer buttered wings into parmesan cheese and breadcrumb mixture. Place in baking dish and bake in oven 15 minutes then turn once. Bake for a final 15 minutes. Chicken is done when it turns a light golden brown and juices run clear.